Things have changed in the last 12 hours. This post has been updated to include information about the maximum collectable delegations and the limit to the delegation fee on September 21st, 2020 8:00 PM UTC.
Got a question? Get answers in the Telegram community or send a tweet to @AvascanExplorer.
Avalanche mainnet is about to launch. At Avascan we're committed to the long term success of the network, and we believe it's going to be more decentralized than any other blockchain we've ever seen.
Are you able to run a node?
If so, just do it. You'll earn more, trust no one, and you'll support the network.
If not, we're now announcing not just one, but two public validators but one at launch and more validators in the near future.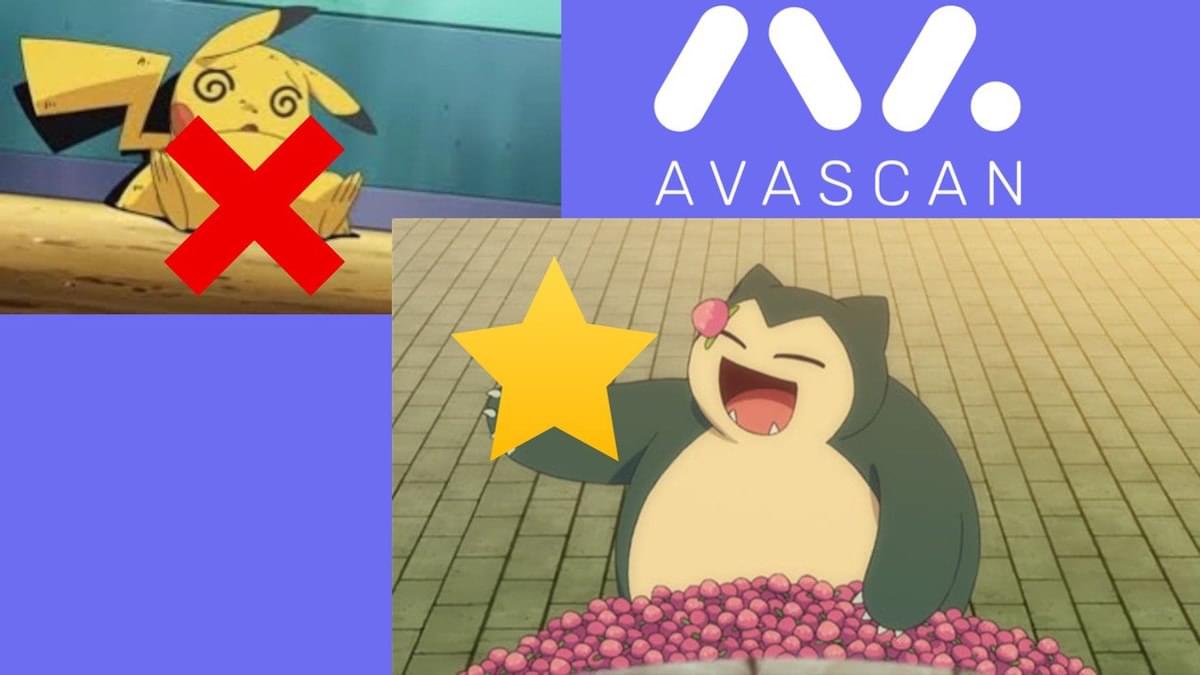 With the Avalanche staking rules in place for mainnet launch, we needed to find a way to ensure a similar level of trust and quality for our users. Minimum delegation fee is now 2% and the total weight of a validator can be 5 times more of the validator's own stake at maximum. Hence, we passed all day trying to find a way to increase our validator's stake to let as many delegators possible in our validation. This is why we're announcing one, bigger validator at launch: 'Curious' Pikachu is exhausted: Go, 'Lazy' Snorlax!
- 'Curious' Pikachu: a 0% fee validator expiring on Oct 31 2020
'Lazy' Snorlax: a 10% fee validator expiring in Sep 2021
| Validator name | Fee | Duration | Benefits |
| --- | --- | --- | --- |
| 'Lazy' Snorlax | 10% | 3 months | SCAN token |
How to choose Hurry up to delegate!
Are you lazy?
Delegate "Lazy Snorlax" If you're not able to run a node and too lazy to learn more about Avalanche staking. Set it and forget it, knowing you can trust Avascan to run things properly. Also, since there's only one validator at launch, it's best to hurry up and delegate as soon as possible: when 'Lazy' Snorlax will reach capacity, we will announce another validator with a higher delegation fee, and will do so even when this one reaches capacity.
'Curious' Pikachu
Curious Pikachu is a small present from Avascan to the Avalanche community.
A zero fee validator that will run for just 1 month. This is the perfect validator to choose for any user that wants to delegate but needs more time to learn how Avalanche staking works and what are the risks and opportunities associated with validation and delegation - see our post on how to choose a validator on Avalanche, and check our Delegation FAQs here.
If you really are a Curious Pikachu, after one month of reading you should be able to run your own node or at least choose the validator that best fits your needs.
Lazy Snorlax
Delegate to NodeID-V5R4XjWDtjs8Zi2g3TRNzngnGJiXm2ic
'Lazy' Snorlax will operate for 1 year 3 months. The delegation fee is set at 10% and will allow Avascan to run this service professionally. The Avascan team has worked tirelessly all day to ensure that 'Lazy' Snorlax will be able to take as many delegations as possible. We have built a virtual liquidity pool with investors that believe in Avascan and have committed to stake a total of 300,000 AVAX **492,002 for as much as 3 months.
Update Sep. 24st 8:00 AM UTC: 'Lazy' Snorlax will collect a maximum of 1,200,000 AVAX 1,972,008 AVAX in delegations.
Do you have more than 100,0000 AVAX and don't want to validate yourself? Do you trust Avascan's professionality? We have a pipeline of validators to announce, and we could use your AVAXs to start multiple, trustless validators in the near future. Contact Jaack in the Avascan Telegram community to start a partnership.
But that's not all…
Enter the SCAN token
'Lazy' Snorlax delegators will receive SCAN tokens, 1 for each AVAX paid in delegation fees. We'll explain more about SCAN tokens in the coming weeks, and we'll let the community decide its uses and purpose, so follow us on Twitter and enter our Telegram (users) and Discord (devs) to join the conversation.
Happy Avalanche mainnet launch!
Tune in at 9:30 PM UTC on September 21st @AvascanExplorer to wait with Avascan and watch the creation of the genesis block!
Got a question? Get answers in the Telegram community or send a tweet to @AvascanExplorer.