Got a question? Get answers in the Telegram community or send a tweet to @AvascanExplorer.
Our first validator, 'Lazy' Snorlax, was a huge success: it reached maximum capacity in only 5 days with 98 delegations, and it now ranks #1 by number of delegations in the whole Avalanche network.
'Lazy' Snorlax is also a good helper: it saved quite a few nodes from total failure by quickly informing them about their low responsiveness through the Avascan explorer. 'Lazy' Snorlax is very well connected in the Avalanche network and the fact that he couldn't reach these nodes meant that many other nodes had issues reaching them. The unreachable nodes quickly improved connectivity and are now reachable again, as you can see on Avascan.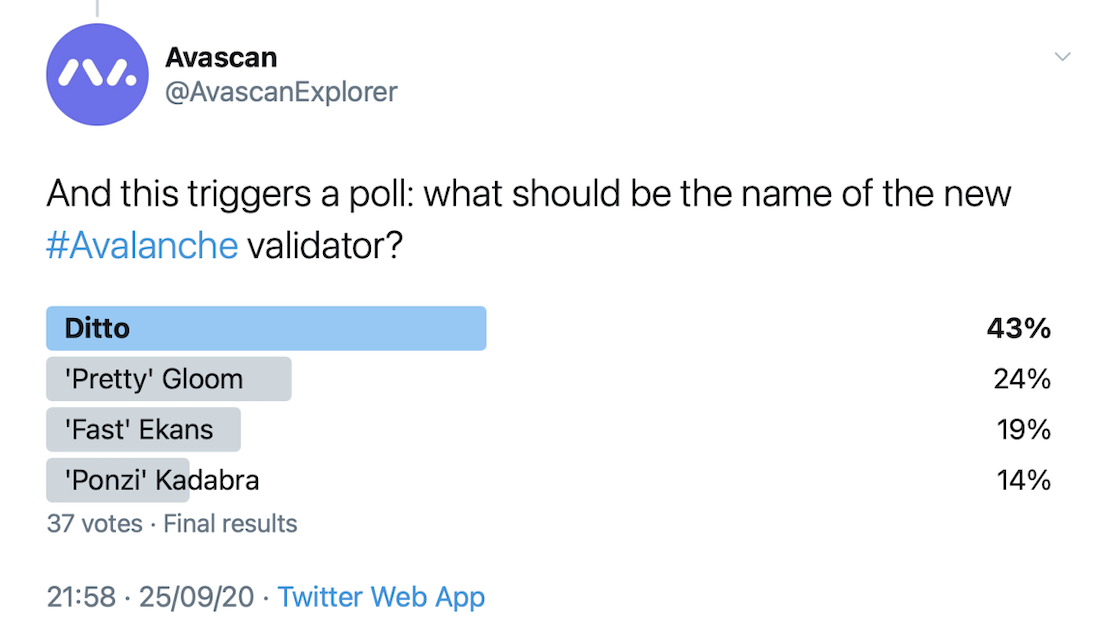 For the next validator our community chose the name Ditto because, as Avalanche enthusiast @stood_j says on Twitter, "Avalanche is the Ditto of crypto. It transforms to be able to become any other virtual machine it needs to be".
Key features of Ditto:
- 3 months staking period
- 664,790.4 AVAX capacity
Ditto's advantages over other validators:
Avascan Quality of Service: our first validator is #1 in the whole network because Avascan has top notch infrastructure and a top notch team managing it;
2x more SCAN tokens: Ditto's 20% delegation fee means that delegators will earn 2x more SCAN tokens (Avascan loyalty token) than with 'Lazy' Snorlax.
Avascan support: users who delegate to Avascan's validators will get 24/7 support on our Discord and Telegram community.
Avascan Trustless Lending Program
We are borrowing AVAX to run our validators. When we launch a validator, a trustless lender issues a special transaction and will receive 100% capital back plus validation rewards. Lending AVAX is trustless: you never transfer AVAX to us, and you automatically get all rewards as per protocol rules. We then ask you to share them with us to cover our operating costs, and what you're left with is surplus rewards. If you own more than 100K AVAX and want to earn more rewards than any delegation could, contact us. Two trustless lenders already chose Avascan to operate nodes and we're looking for the next ones to launch our future validators.
Delegate to NodeID-8ALyunjeYV85zBSrD2rjJdQ754z9jasvq
Ditto's Validator details page on Avascan
Got a question? Get answers in the Telegram community or send a tweet to @AvascanExplorer.