Explore is partnering with the This Week in Avalanche to get news about the Avalanche network.
Announcements
Updates on the Programs
On our last issue, we announced that we would launch two Programs, for Validators and Assets. Now we have some updates for that, and you're gonna like them:
On Monday we launched the Validator Verification Program and verified 13 validators to date. If you want to verify your validators, follow the official guide;
Next week, we will launch the Asset Details Program: if you have issued a new token, you can soon get it verified;
Later this month, we will launch a third Program, the Address Details Program: this is meant to help users and developers know which are the most frequent used and known addresses, from exchanges to Ava Labs and Avalanche partners. We are already collecting addresses without a workflow, but we'll announce an official workflow along with the announcement. If you know some addressed already, reach out in our Telegram community to share them with us.
New feature: delegation tracking and alerts
We anticipated it last week, and now it's ready! You can now track your delegations, and you will get an alert when you browse Avascan you will get an in-browser alert if a delegation is ending, so you can renew it. You can track / untrack delegations at any time, and you can view them clicking on the bell icon next to the Staking menu button.

Enjoy and let us know what you think on Twitter @AvascanExplorer!
This week in Avalanche
Read more on This Week in Avalanche, Oct 15, 2020
This week in Avascan
Since the first delegations expired on October 6th, we issued SCAN tokens to 26 different addresses! We are still going through a lot of uses for the token, and we have begun a feedback loop with a small set of users, but we don't have almost anything concrete: "almost", because we have a logo! We'll unveil it soon after we announce the Asset Details Program.
We launched our third validator, Abra. The validator has been launched with 600,000 AVAX borrowed from the first investor that joined the Trustless Lending Program. Abra has a different infrastructure setup and location, so consider delegating to it to increase decentralisation at a low cost: it only has a 5% delegation fee. If you have more than 100,000 AVAX and want to start a validator with us, head in our Telegram community to learn more.
What's new on Avascan:
The Validators List page now sorts by decreasing free space by default;
Page title are now dynamic and SEO-friendly, so links shared on social media will 'talk more';
In the Validators List page, time left to validation end is now expressed in days in any case;
Newly-generated addressed that have neither inputs nor outputs are now correctly indexed and can be viewed and searched;
Known issues:
Import and export transactions are not complete, since we cannot access P-Chain data;
You cannot yet view information about C-Chain;
Explore the Road
We review all the suggestions you made in our Changemap page. You can now vote which one needs to be done first for you in the Suggestions page.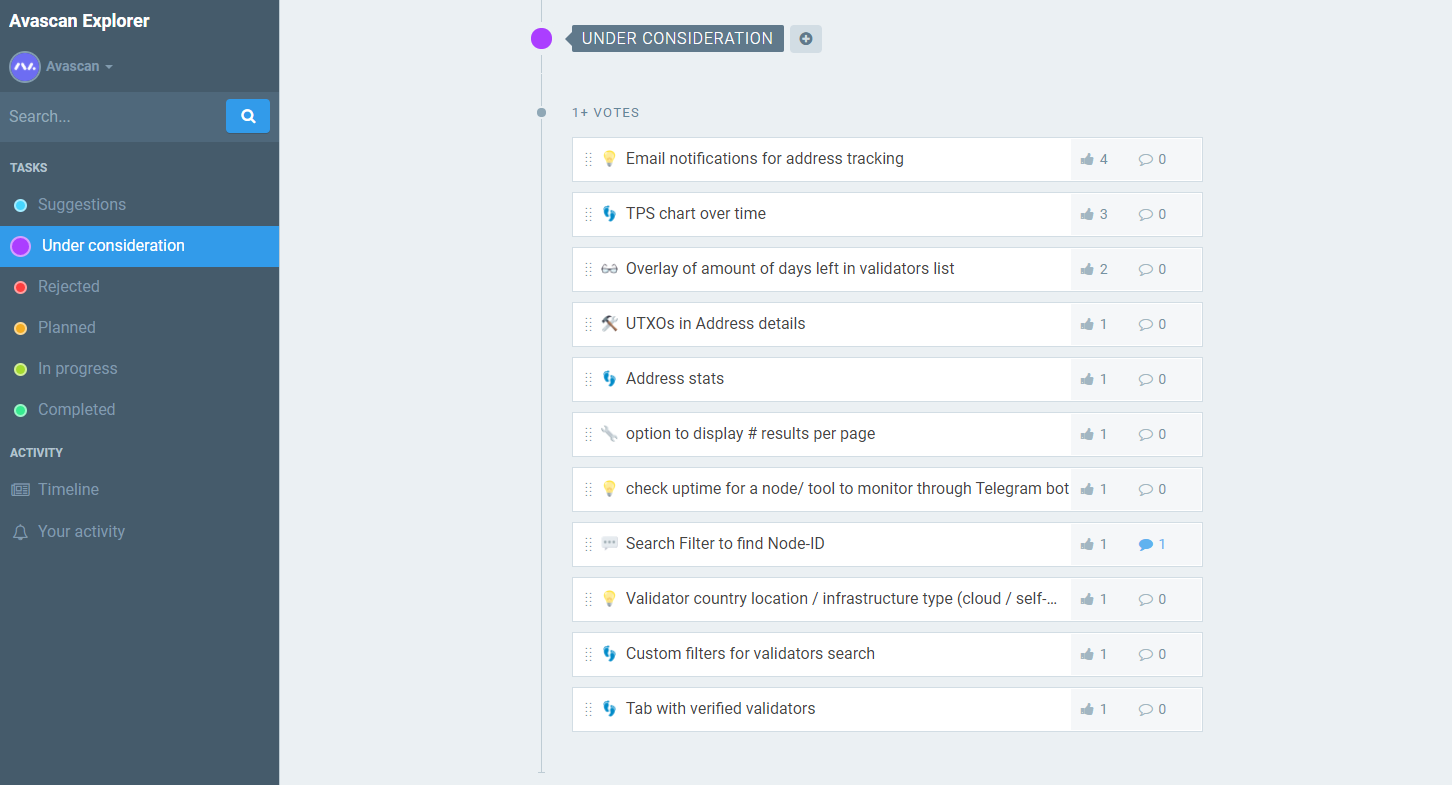 We are working to let users filter the validation list by various parameters. We will likely release next week, or the week after that;
We are discussing and brainstorming the potential of releasing a staking calculator that would help delegators know which strategy is best (very complex to make) or predicting the reward to a specific validator (simpler, but does it make sense?). We are very open to discussion about this. You can tell us your opinion or suggestions in the Telegram community or in the #🔒delegation channel of our Discord server
C-Chain indexing is under development for a few days now: we already have some features working (transactions, tokens and blocks) but a lot needs to be done still. We are expecting to release C-Chain support on Avascan in November.
See you next week, and you for reading!