Explore is partnering with the This Week in Avalanche to get news about the Avalanche ecosystem.
Announcements
Partnering with Staking Rewards
First of many: we announce the first data partnership, with @StakingRewards ! They are using our APIs to serve #Avalanche #AVAX staking data to their thousands of users! Learn more in the announcement: https://t.co/QPZmMvV0wQ

— Avascan (@AvascanExplorer) November 5, 2020
We are very excited: yesterday, on Twitter, we shared the first Data Partnership for Avascan, with staking information website Stakingrewards.com. This is great news for Avascan and Avalanche as a whole: users from the broader crypto community can now discover the staking opportunities that Avalanche offers, and they do that by viewing data provided by Avascan APIs.
At Avascan, we are deeply committed to deliver best-in-class quality data about Avalanche, such that the whole ecosystem may grow more connected with the crypto community. We're excited to be part of this!
This data partnership is just the beginning: we are in talks with the StakingRewards team to improve the way they show data about Avalanche, and we will revamp our APIs in the coming weeks to accomodate major improvements in our main explorer engine. To learn more about the announcemente, click here.
Do you want to get started with Avascan APIs? Read our Knowledge Base.
Updates about the Address Details Program
‌As we announced in Explore #6, you can now report recognizable addresses. Those can be addresses from exchanges, ecosystem partners or DApps on Avalanche. You will not need to send a transaction, because we would need to verify that the entity that you're reporting really owns addresses on Avalanche. You can report addresses in #🔢addresses in our Discord server.
We will start accepting suggestions right on and we will be processing them as they come, but we will show the details in the coming weeks. We already mapped more than 4,000 addresses! Stay tuned on @AvascanExplorer to know when their details will be available!
Updates about the node network information
When we released new network information in the Validator Details page last week, we were overwhelmed by the amount of feedback that we collected: some of you is OK to show the info, some others are not.
Delegators want to see where a validator is located and where is hosted, because it gives them greater confidence about the transparency of the Validator Manager. Validators, instead, seem not to like this.
At Avascan, we deeply understand that you're putting a lot of value in Avalanche as validators, and you do not want it to be put at risk. But we also know that this is how blockchain works: every blockchain's RPC exposes the node's IP, so everyone could know where you are by simply doing an IP geolocation using a free web service like IPstack.
We heard your feeback, and we are at work preparing a guide on how to mask your IP address for better security in the network. It will be released next week.
This week in Avalanche
Read more on This Week in Avalanche, Nov 5, 2020
This week in Avascan
More than 670 followers on Twitter, almost 500 members on Telegram and almost 150 on Discord: the Avascan community has grown a lot in October, thank you so much for your support!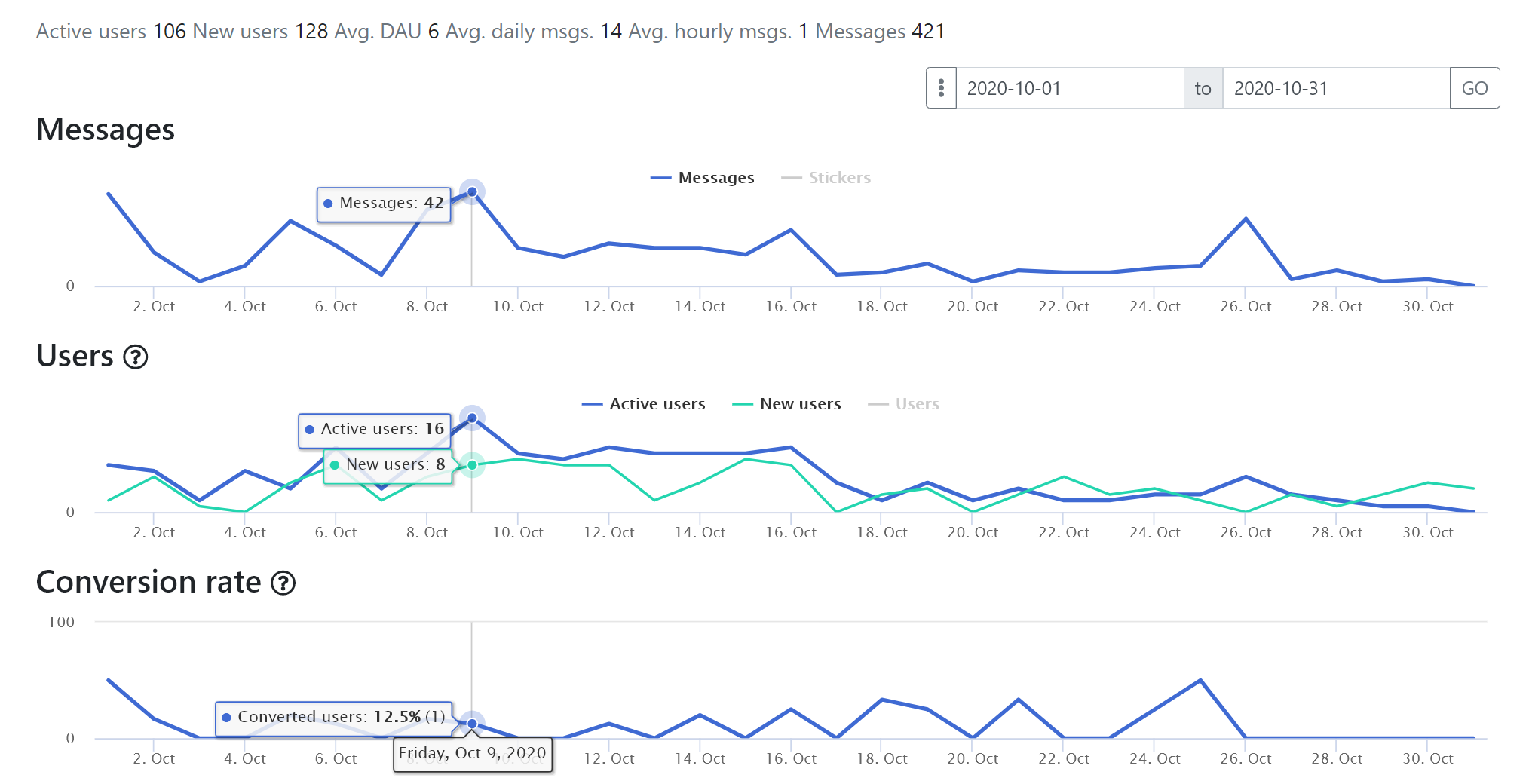 What's new on Avascan
The Avascan APIs have been updated to reflect few changes in the syntax and to include new variables. Try them out here;
Introducing the new Staking Stats page
Take a look at the revamped Staking Stats page: this is a big improvement that brings advanced analytics to Avascan!
We wanted users to have a clearer view of what's going on with the AVAX staked, and we did so by removing some numeric stats, increasing the size of the remaining ones and adding 1 map and 4 charts:
End of validation time: shows the time at which the validation stake will end its period. This is a great way for delegators to understand what's the best time to delegate and renew their delegations;
Top 10 managers by delegations: shows which are the Managers of Validators that are collecting more delegated stake. To increase decentralisation, you may want to delegate to validators that are at the bottom of the list, of not in the list at all;
Validators by provider: shows the portion of validators that are hosted on the same infrastructure or ISP. To increase decentralisation, you may want to delegate to the validators of the provider that occupy the smallest portion;
Connected stake: shows the amount of stake that's staked in a validator that has more or less than 60% observer uptime by all nodes that our nodes can connect to. If a some stake is on validator that's not connected, that stake will not create rewards;
But we think this is not all: we could create and show a lot of charts, but we don't know how to choose what's useful and what's not. We need your feedback: which new chart would you want to see? Do you like the ones that we chose? Let us know on Telegram or Discord!
Known issues
We are aware of an issue that can cause temporary downtime in the whole website and, specifically, in some Asset Details pages. We are working on a solution that's part of a major architectural overhaul of the website, that will likely be deployed sometime in November.
Explore the Road
It's on you now: while we continue to improve our indexing engine and learn new ways to show as many information to users as possible, we also understand that Avascan needs to be how users want it to be, so we ask your feedback: head to our Changemap page to request new features or report bugs, and start a conversation in the #feedback channel in our Discord server. We need you to make Avascan great!
See you next week, and thank you for reading!